ArenaLTE.com
- Aplikasi Edukasi asal Indonesia bernama Quipper yang membawa pendidikan secara digital memiliki kesempatan untuk mengembangkan dan melakukan ekspansi bisnis mereka di kawasan Asia Tenggara.
Pengalaman tersebut disampaikan oleh Takuya Homma, Founding Member dan Country Manager Quipper Indonesia dalam acara Global Education Technology Summit and Expo 2017 yang diadakan di Beijing, 14 - 16 November 2017.
Global Education Technology (GET) Summit and Expo adalah sebuah wadah bagi pelaku industri edutech untuk berbagi wawasan, pengalaman dan solusi seputar layanan pendidikan. Lebih dari 3.000 peserta dari seluruh dunia hadir pada pagelaran akbar bagi industri edukasi teknologi terbesar di dunia seperti Tencent, Harvard Business School, EduSpike, Steve Jobs School, EduLab dan masih banyak lagi.
Selama tiga hari, perhelatan GET Beijing 2017 berfokus pada topik mengenai Artificial Inteligence (AI), ekspansi global dan bagaimana cara agar para siswa terus termotivasi untuk belajar.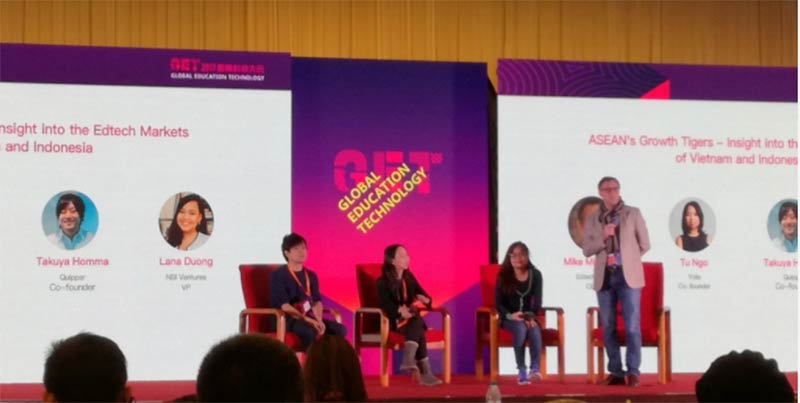 Dalam sesi yang berjudul "ASEAN's Growth Tigers - Insight into the Edtech Markets of Vietnam and Indonesia", Takuya Homma bersama dengan perusahaan edutek Topica dan Yola, membahas berbagai macam topik termasuk pentingnya lokalisasi konten.
Mereka juga membahas mengenai bagaimana cara berkolaborasi dengan berbagai pemangku kepentingan di industri, dan apa yang membawa Quipper, Topica serta Yola meraih sukses di setiap negara.
Pada kesempatan tersebut, Takuya Homma mengatakan "Saat ini layanan berbayar Quipper telah digunakan oleh setengah juta pelanggan di dunia. Angka ini merupakan salah satu yang terbesar di dunia dan menunjukkan potensi besar yang dimiliki Asia Tenggara, terutama Indonesia. Kami percaya Quipper dapat menjadi jembatan bagi para praktisi pendidikan untuk bekerjasama dan berkolaborasi sehingga dapat menjawab tantangan pendidikan."
Saat ini Quipper mempunyai lebih dari 4 (empat) juta siswa yang terdaftar di seluruh dunia, dan terus melakukan kolaborasi dengan guru sekolah serta pemerintah, termasuk kerjasama dengan 50 dinas pendidikan di Indonesia seperti Rokan Hulu, Aceh Singkil, Minahasa Selatan, Bantaeng, Palembang hingga Balikpapan.